HSUHK Putonghua Debating Team
HSUHK Putonghua Debating Team (恒大普通話辯論隊) was previously operated as a short-term Student Team. In 2017/18, the team operates as one of the HSUHK Cultural Groups, joining hands with the University to promote the art of debating and to encourage students' participation in cultural activities.
The team recruits new members each year to participate in local inter-university debating competitions in Putonghua. All of them are active and passionate to debate issues of local in Putonghua. Besides regular practices, the team has participated in external competitions such as the Joint-tertiary Institution Putonghua Debate Competition. To further equip students with professional skills, the University has invited Ms Elena KO (Lecturer, Department of Chinese) to be the advisor of the team in this academic year.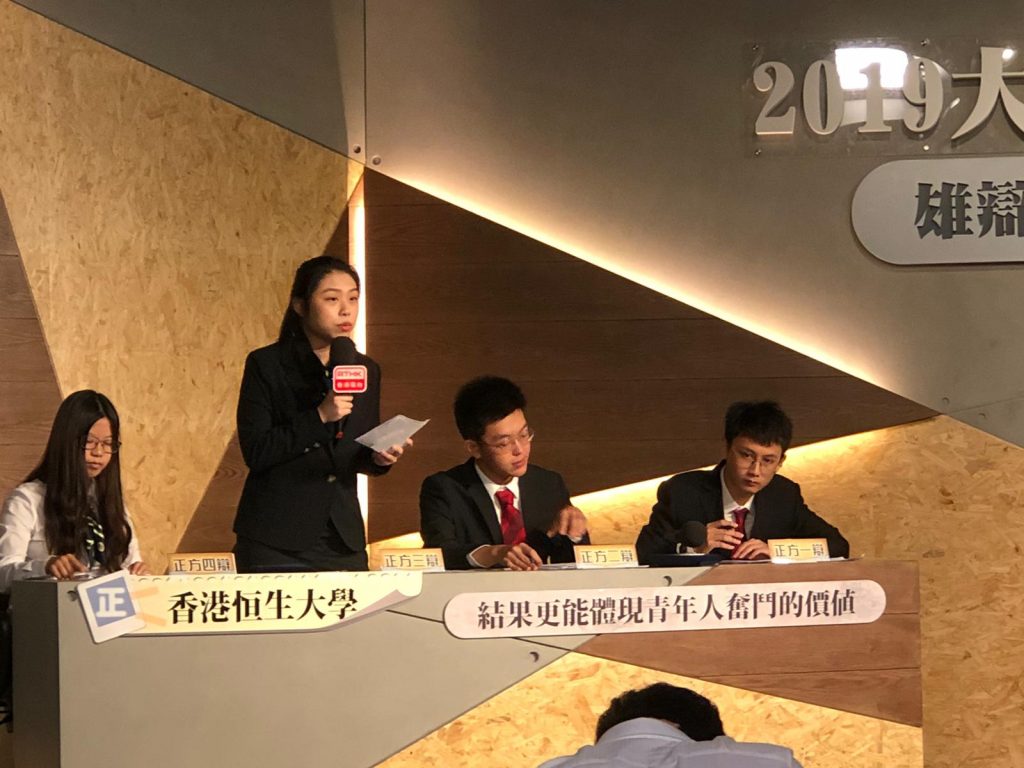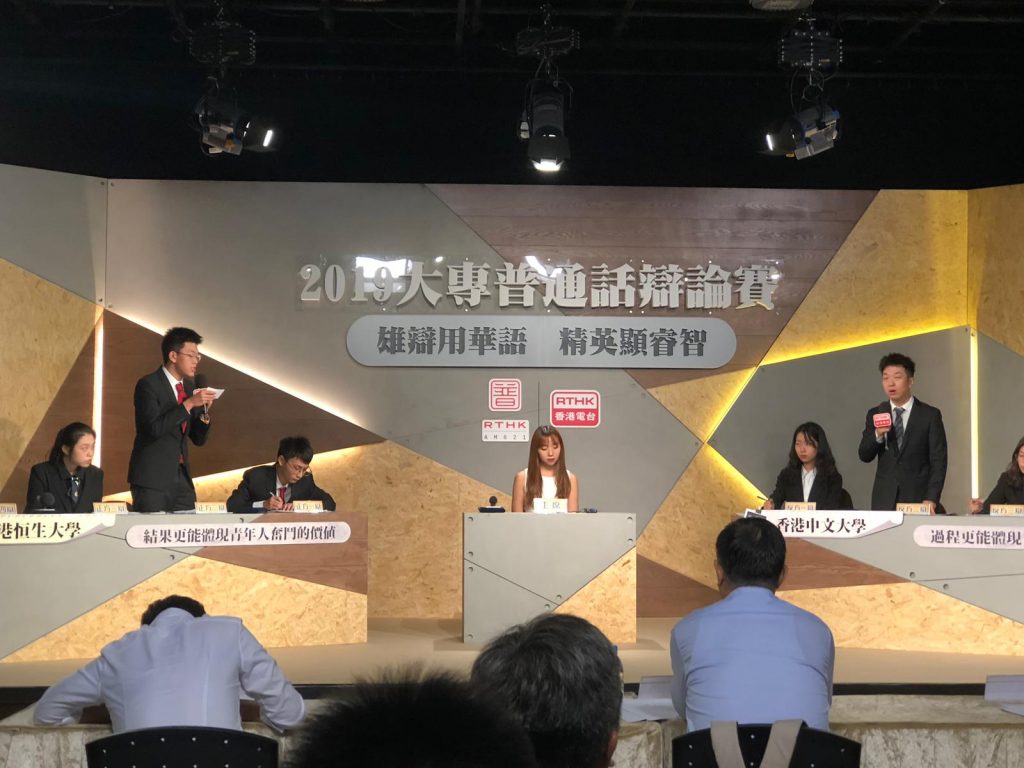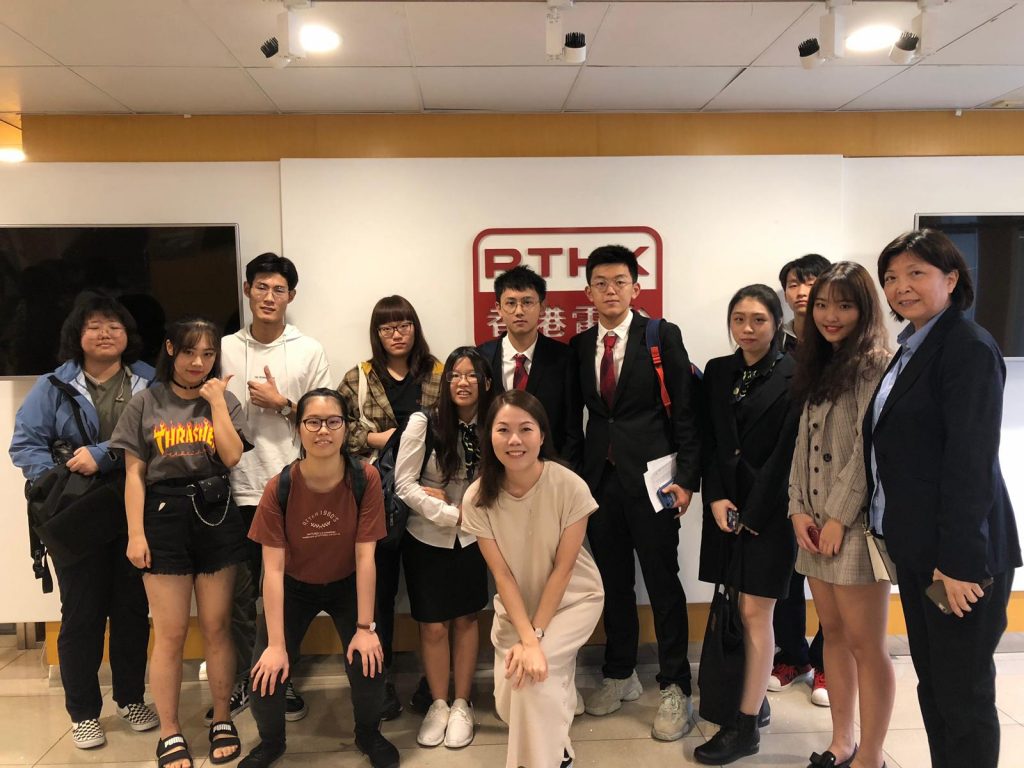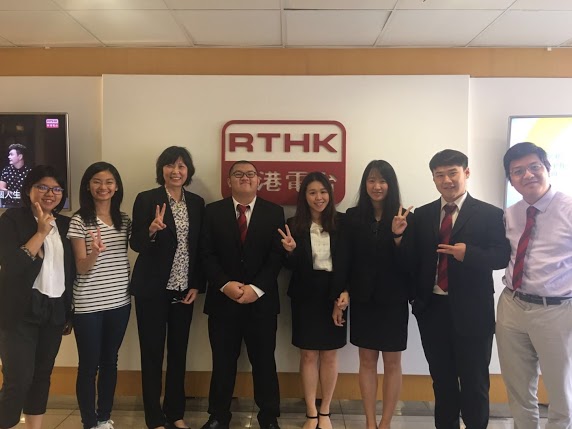 CAI Yifeng (BBA-FA, Year 3)
CHAN Wing (BBA, Year 2)
CHANG Yuan (BBA-FA, Year 1)
CHEN Jie (BBA-FA, Year 1)
CHENG Yan (BBA-FA, Year 1)
CHUNG Kit Yi (BA-CHI, Year 2)
DENG Xi (BBA-FA, Year 1)
DING Hanrou (BBA, Year 3)
DONG Zichuan (BBA-FA, Year 1)
GAO Zhitao (BBA, Year 3)
HO Wing Yin (BBA, Year 3)
HU Zhiqiu (BBA-SCM, Year 1)
HUANG Xiange (BA-CCI, Year 1)
HUANG Ziqian (BBA-FB, Year 1)
HUI Yin Pui Jason (BBA-SCM, Year 1)
LI Jiaru (BBA-SCM, Year 1)
LIANG Xiayu (BBA-FA, Year 1)
LIN Wenze (BBA-FA, Year 3)
LIN Zihui (BBA-MKT, Year 1)
LIU Yao (BBA-FB, Year 1)
MA Yu (BBA-FA, Year 2)
PENG Chuoying (BBA-MKT, Year 1)
QIU Yajing (BBA-FB, Year 1)
SUN Yuexin (BBA-FA, Year 1)
TAN Ren (BBA-FB, Year 1)
TIAN Zongshi (BBA-MKT, Year 1)
WAN Jiarui (BBA-FA, Year 1)
WANG Yihan (BBA-FA, Year 1)
WANG Yilin (BBA-FA, Year 1)
WANG Yuping (BBA, Year 3)
WANG Yuxuan (BBA-PA, Year 1)
XIAO Liyang (BBA-FA, Year 1)
YANG Yee Ching (BA-CCI, Year 1)
YE Yingshi (BBA, Year 2)
ZENG Hui (BBA-FA, Year 2)
ZHANG Jianan (BJC, Year 1)
ZHANG Peiying (BA-CHI, Year 2)
ZHAO Hanqing (BBA-MKT, Year 1)
ZHAO Shicong (BBA-FB, Year 1)
ZHOU Yuxi (BMSIM, Year 2)