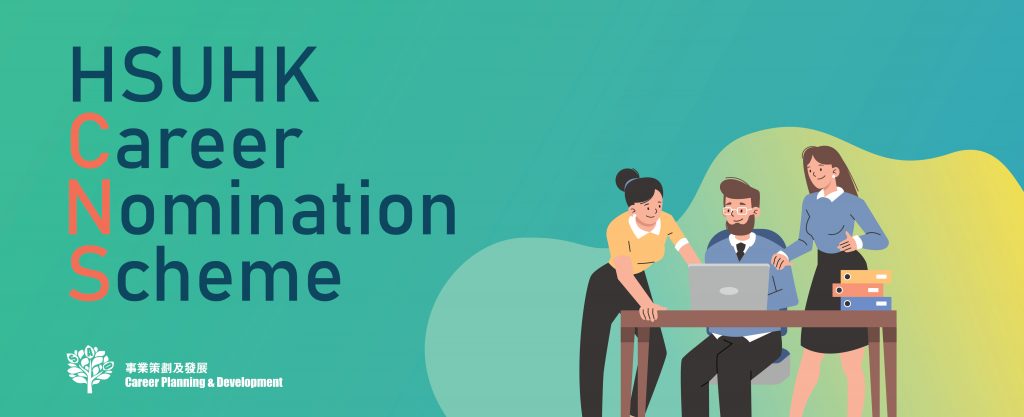 HSUHK Career Nomination Scheme 2021
The Career Planning & Development Team of SAO launched the Career Nomination Scheme in 2020, successfully connecting over 500 HSUHK students with around 150 employers from across industries, of whom around 130 obtained internship or graduate job offers through the scheme.
By reviewing last-year experience and the suggestions given by the participating students, the Career team has revamped the scheme and shall roll out a brand new Career Nomination Scheme 2021 in hope of matching more HSUHK students with niches through university nomination.
HSUHK Career Nomination Scheme 2021
Year 2 – final year students from all disciplines are welcome to apply for the Career Nomination Scheme 2021. Selected students will be given a priority to be nominated for an internship / graduate positions offered by participating employers of the scheme. The Scheme will begin in late June until 31 December 2021, during which the Career team will send the respective job details to participating students via the university email; students can then apply for the university nominations for specific positions if they are interested.
Interested students please pay attention to the following steps for application:
Step 1: Attend an e-info session and online training in CV writing
Attend an e-info session with training in CV writing scheduled for 27 May 2021 from 13:30 – 14:30 on Zoom (CLICK HERE for registration). Students who are unable to attend the e-info session can send an email to careers@hsu.edu.hk to request for access to the training materials after 27 May 2021.
Step 2: Polish your CV according to our guidelines
Follow our guidelines on CV writing, which will be stipulated in the training materials, to polish your CV. Applications without an "up-to-standard" CV will not be considered.
Step 3: Submit your application by 9 June 2021 (Wed)
Complete the application form (click here) and submit along with your latest CV by 9 June 2021, 23:59. No late submission will be entertained.
Step 4: Attend a group interview
Your CV will be reviewed by the Career team and suitable candidates will be invited to attend a group interview scheduled for 15 – 18 June 2021. Selected candidates will be notified through the university email and the Career team shall start sending participating students the respective job details via email for their application until the end of the scheme.
For enquiry about this scheme, please contact Ms. Amy Chu at 3963 5559 / Mr. Manson Wong at 3963 5178 or email to careers@hsu.edu.hk
Best regards,
Career Planning & Development
Student Affairs Office