Online Personal Enhancement Program
個人躍進提升計劃 - 網上自學版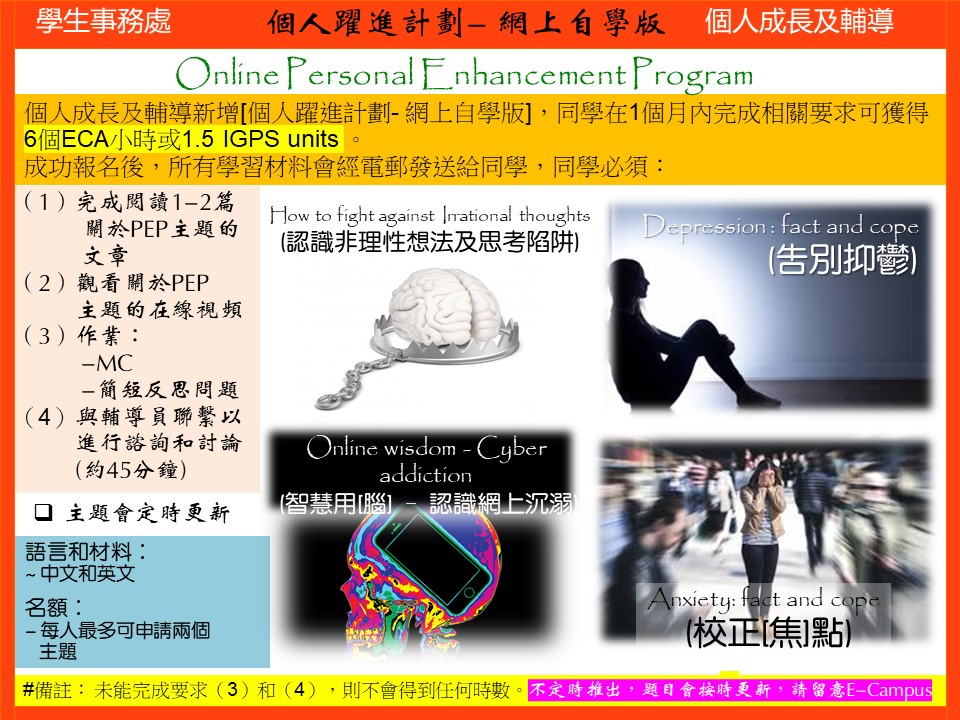 個人成長及輔導新增[個人躍進計劃– 網上自學版],有關題目及內容會按時更新。
成功報名後,所有學習材料會經電郵發送給同學,同學需在一個月內完成以下要求:
(1)完成閱讀1-2篇關於PEP主題的文章 (語言和材料:中文和英文)
(2)觀看全部關於PEP主題的在線視頻 (語言和材料: 中文和英文)
(3)作業:MC
簡短問題
反思
(4)與輔導員聯繫以進行諮詢和討論 (45分鐘)
(#) 完成課程可獲 6 ECA小時或1.5 iGPS unit。未能完成要求(3)和(4),則不會得到任何時數。
Personal Growth and Counseling offered Online Personal Enhancement Program, the topics and themes will update periodically.
After registration, all the materials will email to the participants and who must complete the following requirements within 1 month:
1. Read 1 to 2 articles related to the theme selected (materials will be in Chinese or English)
2. Watch the online video by clicking the links provided (language will be in Cantonese or English)
3. Complete the following assignments (google form):
– Multiple choice
– Short questions
– Wrote down your reflections
4. Contact the counselor for a tutorial / consultation / discussion (45 minutes)
(#) Participants completed the program can get 6 ECA hours or 1.5 iGPS units, but who fails to complete requirements (3) & (4) will not get any hours.
All eligible students are welcomed to register through our online booking according to the topics which you are interested: https://bit.ly/324tFxF

所有合資格的參加者可根據你有興趣的主題,通過網上報名:https://bit.ly/324tFxF