Dear students,
HSUHK Global Internship Programme 2020 (core module) offers a wide array of professional internship opportunities in Germany, Australia, Japan, Thailand and Malaysia during summer 2020. It's a precious chance to enrich both your work and life experience! 
Target students: non-final year full-time UG student of HSUHK
Internship period: Summer 2020 (exact period is subject to employers' requirements)
Stipend/ Allowance: Depends on different employers (most internships are unpaid, while some employers may offer allowance)
List of Potential Internships
Internships vacancies are available in an array of fields and locations. Please view the latest list at  THIS LINK  
Students can indicate their top 3 choices in the application form.
Banking & Finance 

Bank of China, Germany

Media

Sing Tao News Corporation, Australia

Education Administration

Federation University, Australia

Taylor's University, Malaysia

Logistics

Pioneer Group, Thailand

Marketing and Operations

Sydney Harbour Kayaks, Australia

Gokfayuen, Thailand

Public Organization

Hong Kong Economic and Trade Office, Japan (Japanese/ Korean speaking)

Hong Kong Trade Development Council, Japan  

NGO

Picha Sdn Bhd, Malaysia

IT (new)

Pixels Magic Asia Co. Limited
Remarks to students
1. Students have to shoulder their own direct expenses e.g. visa application, round trip air ticket, daily transportation, accommodation, meals, etc.
2. Students should arrange round trip air ticket, visa and accommodation by themselves.
3. Travel insurance will be provided by the university during the placement period (excluding the period of personal travel)  
How to apply?
Prepare the following documents and upload them onto the  online application form
(1) Resume in English (please check out our  Career Guide  for resume writing tips);
(2) Cover Letter (addressed to company of your first choice); and 
(3) An essay on the below topic with 250 – 400 words in English:
"Please tell us the greatest challenge that you have ever faced in your life and describe how you overcame this challenge."
Application deadline is 18 December 2019 (Wed). No late submission will be entertained. Shortlisted candidates will be invited to the first-round interview scheduled for 6 – 10 Jan 2020 afternoon.
Please visit our website for more details:  https://sites.google.com/hsu.edu.hk/hsuhkgip/core-programmes/global-internship-programme-core-module .
Should you have any enquiry on the above, please contact Ms. Amy Chu at 3963 5559 or Ms. Sharon Tse at 3963 5097, or email to  careers@hsu.edu.hk .
Financial Assistance Schemes
Eligible participants under the Global Internship Programme (core module) may apply for the financial assistance schemes provided by the university and the HKSAR government. Please  click this link  for details.  
Should you have any enquiries regarding the finance assistance schemes, please contact the Student Finance & Resources Team of the SAO at  sfr@hsu.edu.hk  or 3963 5560.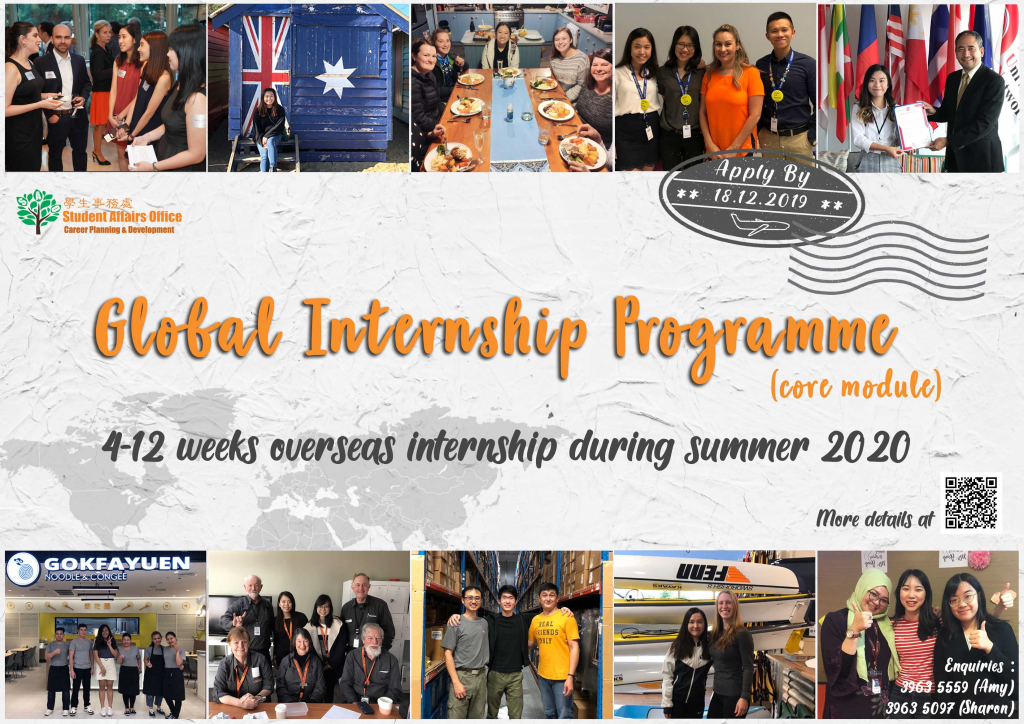 Best Regards,
Career Planning & Development
Student Affairs Office