VolTrekkers Service-learning Training Scheme
VolTrekkers Service-learning Training Scheme is organized by Student Affairs Office (SAO) and supported by Hong Kong Shun Lung Yan Chak Foundation Limited (香港順龍仁澤基金會) which aims at providing solid service-learning experience to HSUHK students and fostering them to become global citizens. Students can plan and implement their own service projects through this Scheme under the support and guidance from SAO.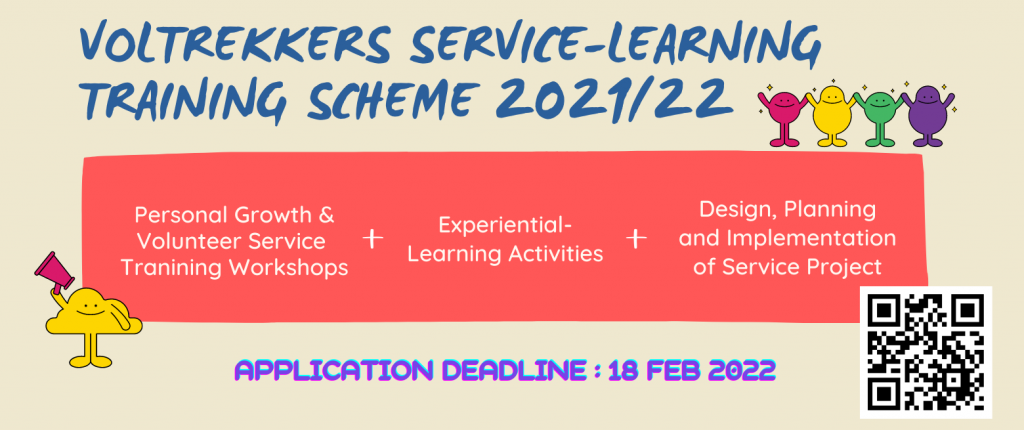 Participants of the Scheme will form service teams to participate in community caring projects by involving in itinerary design, service planning and project coordination alongside the SAO as well as local service partners, etc. 
Students will engage in different experiential-learning activities as well as training and workshops to enhance personal development. Though the Scheme, they will be able to come into a close contact with the service target and thus have a deeper understanding and reflection on a specific social issue. 
Students can learn, grow, and enrich their life experience by planning, implementing, reflecting, and evaluating their service experience. Participants will take part in either of the below community caring projects. 
Timeline
日期/ Date
內容 Content
7 -11 Feb 2022
宣傳展覽 (地點: The Inspiring)
Promotion Exhibition (Venue: The Inspiring)
10 Feb 2022 (Thu)
簡介及分享會
Briefing Session
18 Feb 2022 (Fri)
截止報名
Application Deadline
mid- to late- Feb 2022
面試
Interview
12 or 19 Mar 2022 (Sat)
迎新及團隊訓練日營
Orientation and Team Building Day-camp
Mar & Apr 2022
I) 培訓工作坊 Training Workshops

– 了解社會議題及服務對象
– 性格透視工作坊 Personality Dimension
– 義務工作策劃及服務技巧 Design and Execution of Service Plan
– 思考設計訓練 Design Thinking

(3 – 5 Sessions in total)
May & Jun 2022
II) 體驗活動、 規劃服務 Experiential-learning Activities & Service Planning

– 體驗工作坊 / 參觀 / 講座 Workshops/ Visits/ Talks/ etc.
– 團隊自行安排定期會議,以安排服務細節 Preparation of Service Proposal including itinerary and service planning

Jul 2022
III) 小組服務實踐 Execution of Service Plan
Aug 2022
Conclusion and Sharing
總結及分享