Government Financial Assistance Scheme (FASP/NLSPS)
The Student Finance Office (SFO) provides two financial assistance schemes, namely Financial Assistance Scheme for Post-secondary students (FASP) and Non-means-tested Loan Scheme for Post-secondary Students (NLSPS), to our local needy full-time students in academic year 2019/20.
Please noted that all students are required to apply FASP/NLSPS via the 
online application system
, no hardcopy of application form would be accepted. Student may apply both FASP and NLSPS in the same academic year.
For HSUHK New Intake Students: 20 September 2019 (Fri)
In case of doubt or discrepancy between two versions, the Student Finance Office, Working Family and Student Financial Assistance Agency's version shall prevail.
Application Guidelines for HSUHK students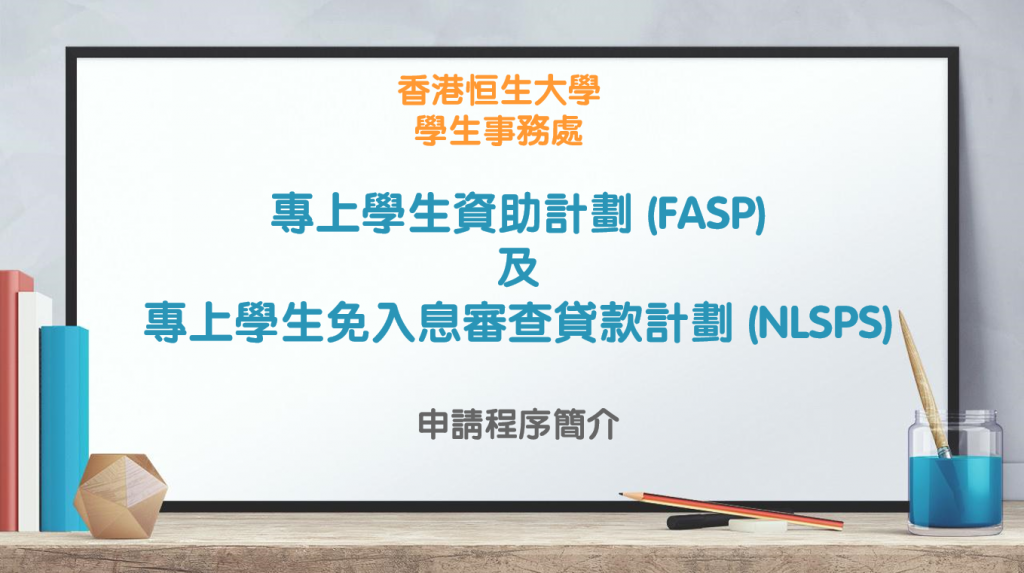 Course Code for FASP / NLSPS
For HSUHK students, there are 2 types of Course Coding Sheet (CCS). Details are as below:
Degree Programmes (學士學位課程)
Institution Code (院校編號): CB
Applicable for those year 1 entry students (適用於由一年級開始便已就讀恒大的同學).
Top-up Degree Programmes (銜接學位課程)
Institution Code (院校編號): TM
Applicable for those who those year 2 or above entry students (適用於由二年級或以上年級才開始就讀恒大的同學).
Important Notes for HSUHK Students
Students who applied for the above schemes in the 2018/19 Academic Year and wish to receive financial assistance in the 2019/20 Academic Year (the upcoming academic year), have to apply for it again.
LATE APPLICATION for current students: Applications submitted to the SFO on or after 15 June 2019 are considered as the late submission. As required by the SFO, an explanation letter detailing the reason for the delay should be submitted as supplementary document to the SFO for verification and consideration purpose.
Tertiary Student Finance Scheme – Publicly-funded Programmes (TSFS) and Non-means-tested Loan Scheme for Full-time Tertiary Students (NLSFT) are not applicable to HSUHK students.
Students are advised to take note of the interest calculation and repayment arrangement of the two schemes and plan ahead.
FASP/ NLSPS Useful Information from SFO
Guidance Notes
Important Notices from SFO
Other Detailed Information
Videos for the schemes
Additional Financial Assistance Resources - Community Care Fund
(Only applicable to eligible applicants)
Increasing the academic expenses grant under the Financial Assistance Scheme for Post-secondary Students (Updated on 15 April 2019)
Enhancing the academic expenses grant for students with special educational needs and financial needs pursuing post-secondary programmes (Updated on 15 April 2019)
Student Finance and Resources Team
Student Affairs Office
Email: sfr@hsu.edu.hk
Phone: +852 3963 5560
Office: M603, 6/F, Block M
Student Finance Office, Working Family and Student Financial Assistance Agency, HKSAR
Tel: 2802 2345 (24-hours hotline)
Financial Assistance Scheme for Post-secondary Students (FASP)
Tel: 2152 9000
Non-means-tested Loan Scheme for Post-secondary Students (NLSPS)
Tel: 2150 6222