VolTrekkers Service-learning Scheme
VolTrekkers Service-learning Training Scheme is organized by Student Affairs Office (SAO) and supported by Hong Kong Shun Lung Yan Chak Foundation Limited (香港順龍仁澤基金會) which aims at providing solid service-learning experience to HSUHK students and fostering them to become global citizens. Students can plan and implement their own service projects through this Scheme under the support and guidance from SAO.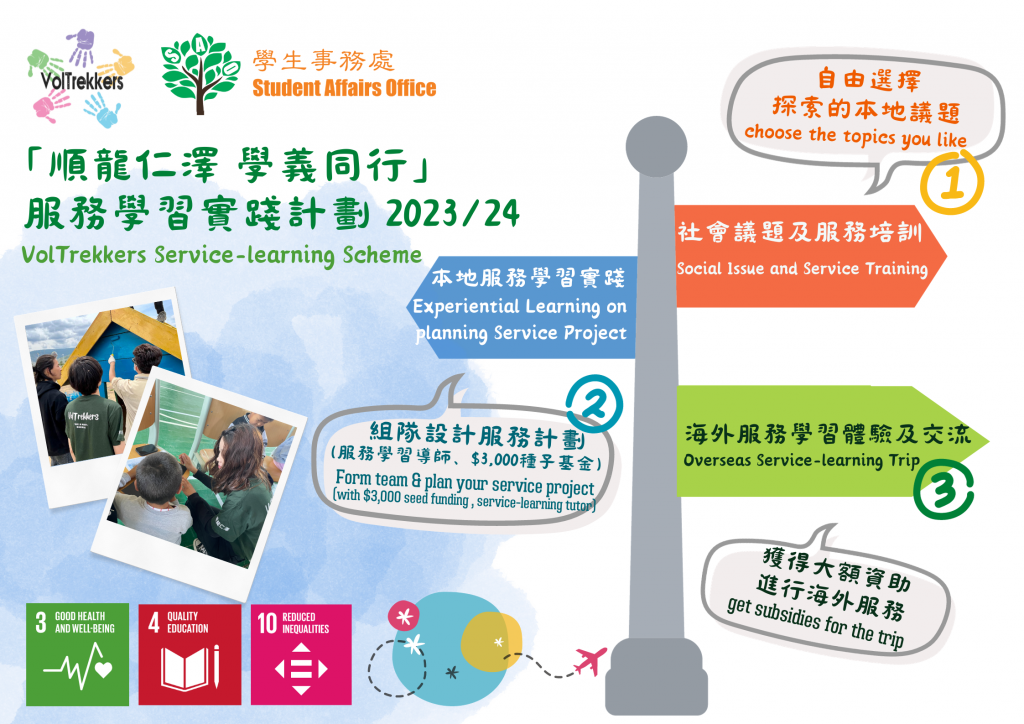 Through the scheme, students will be able to come into close contact with the service target and thus have a deeper understanding and reflection on a specific social issue.  
They can learn, grow, and enrich their life experience by planning, implementing, reflecting, and evaluating their service experience. After the completion of the whole program, students can equip numerous skills such as research, interpersonal communication, problem solving and program design.
 
The Scheme is divided into THREE stages:



Stage 1- Participating in various trainings on specific social issues
The scheme provides a flexible training schedule for students to select suitable training based on their own learning needs. Participants can increase their understanding on specific social issues and to equip themselves on social service planning in the next stage.

Stage 2 – Forming team to initiate your own Community Care Project!

Participants will form service teams to design their own community caring projects. They will be involved in itinerary design, service planning and project coordination alongside the SAO as well as local service partners. 

Getting the guidance from service-learning tutor (served by NGO partners), participants will have a deeper understanding and reflection on a specific social issue, and successfully design the service which can fit the service target's needs.
Stage 3 – Engaging in a fully/partially FUNDED Overseas service-learning trip
Selected students from stage 2 will be invited to join an overseas service-learning trip. Participants will understand more about the social issues in international aspects.

Participants will be involved in assessing needs of service targets, conceiving feasible and sustainable service projects, having post-service evaluation and reflection after returning back to HK. 
第一階段:社會議題及服務培訓
Stage 1: Social Issue and Service Training

*如上述培訓活動之參加者有意參與第二及第三階段的「本地服務學習實踐」及「海外服務學習體驗」,參加者將獲優先考慮
*If the participants of Stage 1 activities are interested in participating in Stage 2 & 3 , they will be given higher priority
第二階段:本地服務學習實踐
Stage 2: Experiential-learning on planning service project
對象:對社會服務有熱誠之香港恒生大學本科生
Target:  Undergraduate student of HSUHK,
with strong passion for social service aspect

語言:廣東話
Language :Cantonese
 報名連結 Application Link: https://forms.office.com/r/79f9QwhxVj
日期
Date

內容
Content

30 Oct –
21 Nov 2023

招募期
Recruitment Period 



6-17 Nov 2023

VolTrekkers展覽及招募攤位
Exhibition and Promotion Booth

21 Nov 2023

截止招募
Application Deadline



20-24 Nov 2023

面試
Interview

6 Dec 2023

迎新及團隊訓練日
Orientation and Team Building Day

Dec 2023-Jan 2024

培訓、組隊安排、與「服務學習導師」會面及交流
Training, Forming Team, meeting with Service-learning Tutor

Jan – Apr 2024

提交服務計劃書及推行本地服務
Proposal submission, and local service implementation

May 2024

服務隊伍分享會及入選名單公佈
Sharing Session, and Stage 3 participant list announcement

(

計劃將資助入選成員進行第三階段的海外服務學習

)


(selected members will be subsided to engage in overseas service-learning trip)
第三階段:海外服務學習體驗及交流

Stage 3: Overseas Service-learning Trip
日期
Date

May – Aug 2024

對象
Target

本計劃第二階段之參加者
Students who are the Phase 2 participants of this program  

條件
Condition

完成第二階段,並獲評為優秀隊員
Completed the Phase 2 and awarded as the outstanding team 

費用
Fee

全免 / 大額資助
Fully / Partially Subsidized

地點
Location

馬來西亞 / 越南
Malaysia / Vietnam
*subject to change