Recruitment and Career Talks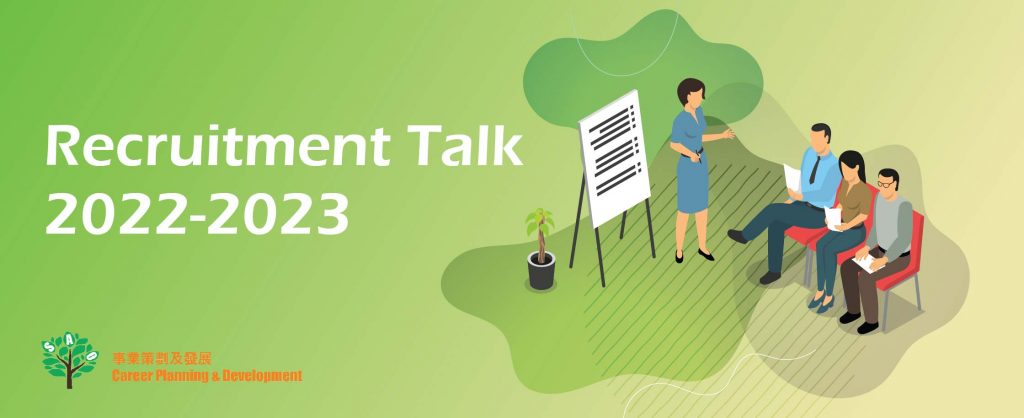 Recruitment Talk is a good platform for students to learn more about an industry as well as to meet prospective employers. Career Planning and Development team of Student Affairs Office invites local and international corporations from diverse industries to stage recruitment/career talks on/off campus all year round, providing HSUHK students with opportunities to understand potential careers within an industry and get valuable insights from industry players.
* The events are the same, students are encouraged to register for either 1.
Held annually in late February or early March, the HSUHK Careers Fair is a significant university event which connects HSUHK students with employers from various industries, presenting thousands of graduate and internship opportunities at once.
Here are the official websites of past HSUHK Careers Fairs:
HSUHK Hybrid Careers Fair 2022
For enquiries, please contact Mr. Jason Lee at careers@hsu.edu.hk
HSUHK Career Connections Day
HSUHK Career Connections Day is a quarterly mini-Careers Fair, designed to regularly connect HSUHK students with leading employers from specific industries.
The upcoming schedule of HSUHK Career Connections Day 2023:
| | | |
| --- | --- | --- |
| Event | Date | Industries |
| HSUHK 1st Career Connections Day | 26 – 27 Sept 2023 | Accounting, Banking, Finance & Multi-National Corporations (MNCs) |
| HSUHK 2nd Career Connections Day | Nov 2023 (TBA) | Information Technology, Data Science, STEM-related |
| HSUHK 3rd Career Connections Day | Apr 2024 (TBA) | Marketing, PR Communication, Media, Event Management, Logistics |
Recruitment Talks serve as an opportunity for students to gain industry insights and meet potential employers. The Career Planning and Development Section invites both local and international corporations from a variety of industries to host recruitment or career talks on and off campus throughout the year, enabling students to explore their potential careers from industry professionals.
Stay tuned for the latest schedule of recruitment talks posted on eCampus and/or sent via university email.