單一體育項目支援 Short Term Team
目標
期限
2022年9月 – 2023年8月
成功者可獲的支援
恒大背心或T恤一件
比賽費用(津貼金額將由大學決定)
免費使用健身室(支援期內)
如資源許可下, 將提供:

免費短期訓練課程
免費租借比賽物資
場地訓練/教練提供
*所有支援均由香港恒生大學決定
申請要求
比賽必須由非牟利團體舉辦,而比賽項目不可抵觸與恒大現有的體育代表隊及其練習
比賽日期必須於每學年年內的9月1日至8月31日舉行
個人/團體名義申請均可
申請日期
有興趣的同學,請於本學年度內電郵以下資料至cklo@hsu.edu.hk及scjim@hsu.edu.hk。學生事務處將會於14個工作天內處理其申請。
姓名
學生證號碼
賽事資料/章程 (如未能提供2022/2023年該賽事的章程,可提供該賽事以往的章程)
希望校方提供的支援
參加比賽之計劃書,包括參加者經驗、能力、參加人數及比賽日之各項安排等。
申請批核之考慮因素
參加者之經驗
參加者之能力/體能狀況
參加者參與比賽之安排 (例如: 交通、膳食、保險、場地費用(如有)、物資安排及費用、工作人員、裁判等)
參賽者 (對手) 資料及背景
參加者之期望及目標
備註:
如希望由單一體育項目支援隊伍,申請成為香港恒生大學之校隊,請於該學年年12月1日之前提供詳細的計劃書。學生學生事務處(體育)將於申請日期截止後一個月內約見。
Objective
Encourage students to participate in physical activities
Duration
Sep 2022 – Aug 2023
Benefits of the successful applicant(s)
HSUHK Tee
Race registration fee (subject to HSUHK)
Free use of the Fitness Centre (within the subsidy period)
Potential subsidies:

Training course
Equipment
Training Venue/Coach
*all subsidies are subject to HSUHK
Application Requirements
The competition must be organised by a non-profit organisation(s); the sports event should not affect the current HSUHK Sports Teams and their practices
The Competition must fall from 1st Sep 2022 to 31st Aug 2023
Individual/Team registration is acceptable
Registration Period
Interested student(s), please send the following information to cklo@hsu.edu.hk and scjim@hsu.edu.hk within AY22/23. The application will be processed within 14 working days.
Name
Student Number
Race details/Information (You may provide the race details in the previous years)
Subsidies from HSUHK
The plan for participating in the competition, including the experience, ability, number of participants and various arrangements for the competition day, etc.
Consideration factors for application approval
Participants' experience
Ability/Physical Condition of Participants
Arrangements for participants to participate in the competition (for example: transportation, meals, insurance, venue fees (if any), material arrangements and fees, staff, referees, etc.)
Contestant (opponent) information and background
Participants' expectations and goals
Remarks:
Please submit a detailed proposal on or before 1 st December of the academic year if you wish the current short-term team to become the University sports team in the future. Successful applicant(s) will be invited to an interview within 1 month.
Short-term Team in AY2017-2018
International Practical Shooting Confederation (IPSC) – IPSC Action Air World Shoot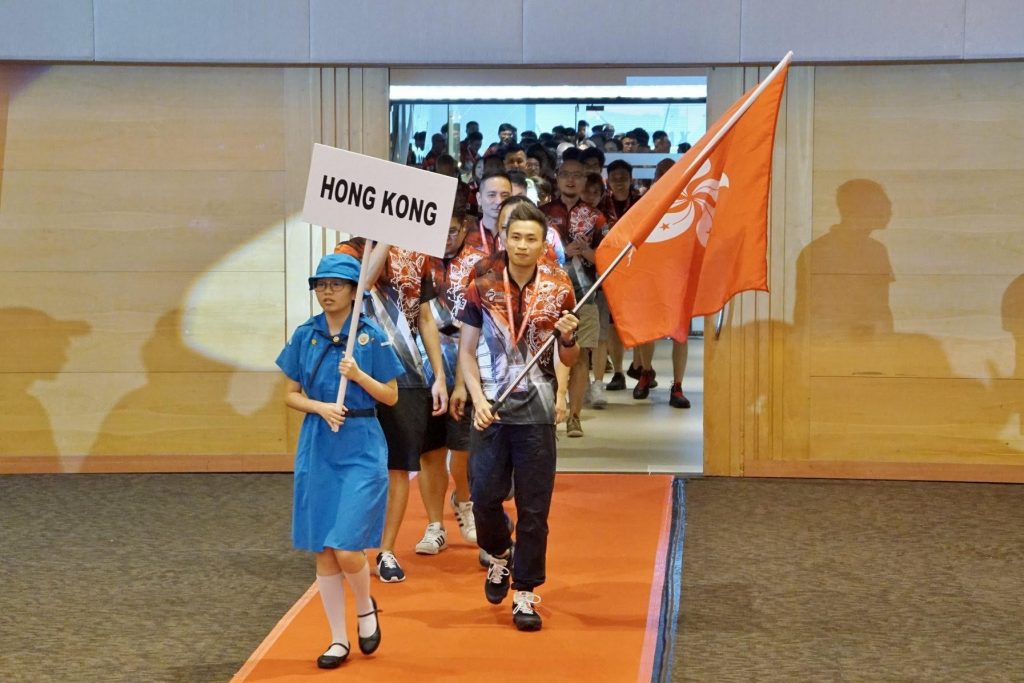 Hello Everyone! This is Tommy Yau from BBA-FA. I am here to introduce you an extraordinary fun & exciting shooting sport which you all may have seen it in movies (i.e.鎗王) – International Practical Shooting Confederation (IPSC). 
IPSC shooters need to blend accuracy, power, and speed into a winning combination. Multiple targets, moving targets, targets that react when hit, penalty targets, or even partially covered targets, obstacles, movement, competitive strategies, and other techniques are all a part of IPSC to keep shooters challenged and spectators engaged.
The inaugural IPSC Action Air World Shoot was successfully held in Jun30-Jul2. As a young shooter, I am proud to be representing Hong Kong and captured the overall 3rd place in the Open Division.
Shooting is not only a sport but also a perfect tool to polish many soft skillsets in life. Shooting requires 100% focus all the time, it also trains up EQ as well as helping one to live their lives balanced via regular training, healthy diet and exercises.
I would like to hereby say thank you to the school and PE unit who supported me a lot through the way. I really hope that more young people like YOU will participate in the sport and join my hand to promote this meaningful sport in a positive way.'
~ From YAU Chun Sing Tommy (BBA-FA Year 2)
Press Release – [2018.04.28] 2017-2018 USFHK Dragon Boat Championships Representative Team
恒管代表在四月二十八日(星期六)參加2017-2018大專龍舟錦標賽,當日代表隊表現良好,戰況激烈。

龍舟這項運動日常訓練非常艱辛,當中消秏極大的體能以及需要無窮的意志,是次比賽我校共有二十一名同學參加,經歷無數的風吹雨打,日曬雨淋的訓練,在短短的兩個多月化身為龍舟戰士,與八間院校競逐各項的寶座。賽事於中國香港龍舟總會石門訓練中心舉行,當天早上風和日麗,恒管的戰士憑著個人意志、團體精神和驚人的爆發力,所參加之組別都成功進入複賽。複賽時雖然已消耗大量體力,仍憑著鬥志,咬緊牙關堅持到底,最後躋身複賽第四名,可惜與三甲擦身而過,未能晉級至決賽。
Representative Team joined the "2017-2018 USFHK Dragon Boat Championships" on 28 April 2018. 21 team members were selected to represent HSMC on the event day. The members participated in the men's small boat and mixed small boat competitions. HSMC team entered the repechage successfully in all events. The races were physically and mentally challenging, but all rowers enjoyed the race very much and expected a better result in the coming years.